Custom auto paint
Average Costs of Custom Car Paint Jobs
Custom car paint jobs can be broken into 3 levels of price and quality: low, middle and high. Find out what you can expect to pay and get at each level.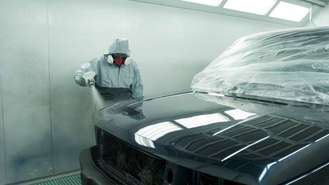 In most areas of the country, there are many body repair service centers or paint shops that offer custom car paint jobs. However, not all provide the same level of service, and not all are affordable.
Although you usually get what you pay for with a car paint job, that does not mean you should not shop around or that you need to pay too much. Being aware of how much different types of paints jobs go for can help you make better decisions and save money.
Low Cost Paint Jobs
If you're on a budget and really want to save on the price of a car paint job, consider national chains like Maaco. There are locations throughout the country and they generally provide some of the lowest car painting prices around. In many cases, you can have your entire car repainted for between $250 and $400.
While these services are inexpensive, there are a few things you should consider. For example, many consumers have complained that Maaco often use inferior quality paints and that workmanship and skill at these locations is often lacking. On the other hand, if you only need a simple paint job, these companies usually do a decent job at a very reasonable price.
Middle of the Road Repaints at a Local Shop
For most paint jobs, people try choose a locally owned shop that has a good reputation for quality of work and service. While cost is certainly a factor, many car owners will place a little more emphasis on a quality job than on price.
Most reputable shops use good to excellent quality paints and methods to achieve much better results. For less expensive jobs they might use paints made by Sherwin Williams or Trinity 1945, and for customers that are a little more particular they may offer brands like Diamont, DuPont or PPG.
All of the paint brands mentioned above are well known and respected brands that cover well and are able to withstand the elements. For a better quality repaint job for your car, expect to pay between $1,000 and $5,000, depending on the type of vehicle you own, the brand of paint used and any other paint options provided (like interior painting, re-coloring of the engine area, etc).
High End Specialty Paint Jobs
If you need a specialty paint application, the cost of a paint job can be very expensive. For example, if you need an air brush artist or a paint shop that specializes in metallic paint jobs, you will often have to spend thousands of dollars. Paint shops that do this kind of specialty work use high end paints like House of Kolor or SEM, which often cost hundreds of dollars per quart. If you need a special two-tone metallic paint job or a chameleon paint job, be prepared to spend between $5,000 and $20,000, and sometimes even more.
Custom auto paint
Custom auto paint
Custom auto paint
Custom car paint jobs can be broken into 3 levels of price and quality: low, middle and high. Find out what you can expect to
SOURCE: Custom auto paint http://www.carsdirect.com/car-maintenance/average-costs-of-common-custom-car-paint-jobs Custom auto paint